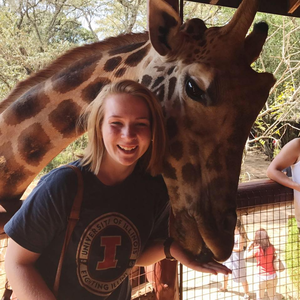 My name is Dannika Andersen, I'm a Junior majoring in Global Studies and Political Science. My GS thematic area is Wealth & Poverty. My language is Swahili and my area focus is Sub-Saharan Africa.
When I came into Global Studies as a just-barely-18-year-old, I decided to take Swahili. Since then, I've had a fair number of people tell me it's a useless language. Despite all this, a little more than two years, a semester in Kenya, and a lot of growing up later, I love Swahili because it connects me with more of the world.
Here's why I take Swahili now: Because in rural Kenya, I was able to have meaningful conversations with women who never had the opportunity to learn English. Because my friend Rhoda at the Kenyatta Market in Nairobi loved telling me about her family in rapid Swahili every time I visited to buy her passion fruit (she had the best in the market!). Because in Seattle I had an Über driver from Kenya who cried when he found out some girl from Midwestern America was learning a language from his country. This all makes Swahili useful.
I get to learn Swahili because of my major in Global Studies. My major has also meant I am a purveyor of random global fun facts, an enthusiastic visitor of United Nations headquarters, and a lover of giraffes. Global Studies has given me the opportunity to do research on the social factors of choices of medicine in a developing country as a 19-year-old. It has granted me the confidence and interpersonal skills to rub elbows with diplomats and Ambassadors fearlessly in Vienna, Nairobi, and right here on campus. Most importantly, Global Studies has taught me that no part of the world, no person, and no language is unimportant. And for that, I am thankful.