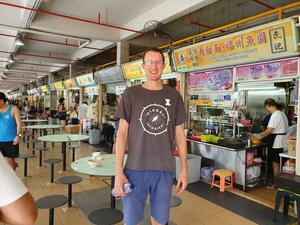 Currently working at BloombergNEF
Major: International Studies, Graduated May 2005. 
Quote:  "I live in Singapore so there are many gorgeous sites I could choose from - from my exciting workplace at BloombergNEF to the Marina Bay Sands, Little India, Sentosa Island or Haji Lane. I thought I'd share a basic shot of a simple stop at one of the city-state's well known Hawker Centers. At this one, Old Airport Road (Singapore's second largest), you can eat a variety of favorites from all corners of Southeast Asia under one roof. 
I graduated in 2005 and since worked in public health, corporate responsibility, and energy and climate in Washington DC, Lima, Beijing, New York and the past four years in Singapore. (Even a short stint as a GS Prgm Coordinator in there back on campus that I loved!) I am lucky to spend work time in India, Australia, China and all countries between."