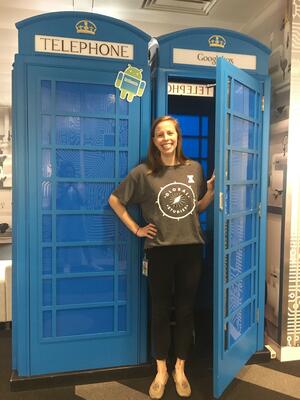 Talent Advisor at Google.
Major: Global Studies, Cultures in Contact. Graduated 2012.
Area of Focus: Western Europe
Languages: French, Italian, & Greek
Photo is from one of Google's London offices, taken while on a business trip there from New York City.
Quote: "I work on a small, global, in-house talent consulting team at Google, doing research on external talent markets, providing data and context for Google's location strategy, and uncovering competitive intelligence. While I'm normally based in the New York City office, I snapped this photo in one of our London offices when I had a chance to work with colleagues there for a couple weeks. I feel very fortunate to have landed in a role that involves interdisciplinary research, client management, and a global scope at one of the most dynamic companies in the world. Before graduation, the CIA had always been an employer of interest but never applied; and I laugh now that I've essentially ended up at the CIA for Google's talent organization - which has been a great fusion of my interest in people and research."