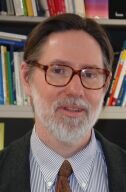 Contact Information
3072 FLB, MC-178, 707 S. Mathews Ave.
Biography
Professor Bruce Murray, Resident Director of the Illinois Program in Vienna, is a native of Minnesota, where German Protestantism, Irish working-class values, and the student movement of the 1960s influenced his early development. He earned two B.A.s (summa cum laude in German and English) from Luther College and an M.A. in German Studies from Middlebury College. He received his Ph.D. in German Studies from the University of Minnesota were he completed a dissertation on German film and politics in the Weimar Republic. While a student, Prof. Murray completed course work and research in Freiburg, Mainz, and in Berlin (East and West).
For the past fifteen years Prof. Murray has directed the Illinois Program in Vienna. There he teaches two courses each semester on German literature and culture, as well as on European integration. He advises AIEP participants in the German Language, College of Business, and Vienna Diplomatic components academically and personally. He also is the liaison between UIUC and its academic partners in Vienna. In addition, Prof. Murray serves as EU coordinator of the Good Governance Consortium (GGC), a partnership of eight EU and U.S. universities, including UIUC. The GGC offers an innovative curriculum for advanced undergraduate and graduate students interested in transatlantic collaboration in various aspects of political and economic governance. Most recently he initiated the Environmental Entrepreneurs program to encourage study abroad participants to minimize their carbon footprints.
Education
1985--Ph.D., German Literature, University of Minnesota; 1977--M.A., German Literature, Middlebury College; 1976--B.A. summa cum laude, Luther College, German and English
Grants
2010--Illinois International Programs/Studies, Hewlett International Conference Grant, 2008--Illinois Academy of Entrepreneurial Leadership Opportunity Grant for "Environmental Entrepreneurs—Carbon Neutral Study Abroad"; 2006--FIPSE and EUCDGEAC CIP Grants for GGC cost-free extension; 2004--UIUC Cross-Campus Initiative Grant for GGC International Conference; 2003--FIPSE and EUCDGEAC CIP Grants for Good Governance Consortium; 1999--UIUC Educational Technologies Board Grant; 1989-1990--UIC Institute for the Humanities Senior Fellow; 1988--NEH Regrant, Primary Investigator and Max Kade Grant; 1987--DAAD Research Grant, Stiftung Deutsche Kinemathek; 1986--ACLS/IREX Grant, Staatliches Filmarchiv der DDR; 1981-1982--Fulbright Grant, FU Berlin; 1976-1977--DAAD Dankstipendium, Johannes Gutenberg Universität Mainz
Courses Taught
Introduction to Modern German Literature, Introduction to 20th-Century German Literature, History of Austrian Culture, Politics and Culture of the European Union, Global Studies: Diversity and Integration in Cosmopolitan Vienna, Good Governance Consortium: Introductory Seminar
Additional Campus Affiliations
Adjunct Lecturer, Germanic Languages and Literatures
Highlighted Publications
Books
Film and the German Left in the Weimar Republic: From Caligari to Kuhle Wampe Austin University of Texas Press 1990.
Plummer, Thomas, and Bruce A. Murray, et al Film and Politics in the Weimar Republic New York Holmes and Meier 1982.
Edited Books
Murray, Bruce A, and Christopher J. Wickham Framing the Past: The Historiography of German Cinema and Television Carbondale Southern Illinois University Press 1992.